We all have a dream. In fact, I'm a serial dreamer – and once in a while, I try to make reality fit my dream. When I first envisaged a South Asian Symphony Orchestra in 2013 in a conversation with Viswa Subbaraman in far-removed Milwaukee, that dream seemed the antithesis of all that I had witnessed in my peregrinations as a diplomat in South Asia. South Asia, with its eight nations, seemed to signal to the world, the very negation of all that one would associate with a region that is meant to be a composite whole, bound by geography and the fountainhead of history. The chronic India-Pakistan conflict shrouds the South Asian narrative for the outside world, clouding visibility and reasoned debate. Other nations in the region know this well from their experience of multilateral and regional conclaves. Cooperation is a rare commodity and argumentative diplomacy – if one can call it diplomacy – is the name of the game.
But, what about the people of the region, one may ask. Should human connectivity be denied to them- are we to live as walled-in nations in a region that was once a vibrant civilizational space? Is cultural diplomacy a spent force? Or, does it have its uses? And so, I chased my dream of creating a South Asian Symphony Orchestra.
Often, taking the first step on a journey into uncharted terrain takes a while. There is a leap involved, often a leap of faith – because it is quite normal to be seized by thoughts of uncertainty about what lies ahead. As a retired civil servant, one's world is somewhat circumscribed in terms of power and influence. One is seized with the finiteness of existence, too. How much can you accomplish as the days dwindle down?
Sudhakar and I decided nonetheless, to deep dive into the waters of terra incognita. And the what we have discovered in the process has been precious and unique. This glow of music and the people who play it with passion and dedication in the orchestra we have created has made every step of that quest; now a pilgrimage, may I say – worth it.
Viswa Subbaraman and the South Asian Symphony Orchestra – these words have a nice timbre, don't you think? "Chiragh" , our debut concert resonated with a powerful message – as sonorous as the music that was played – that we, as South Asians, can listen to each other, overcome communication barriers and build a concept of harmony that encompasses counterpoint and diminishes subversiveness.
"Chiragh" shone a brave light for all of us this 26th April. We must not that light fade. It's luminosity must increase. We must let the togetherness we built in Mumbai grow stronger and more resilient. We must believe. Believe in our shared destiny as South Asians, and the magic that an Orchestra creates.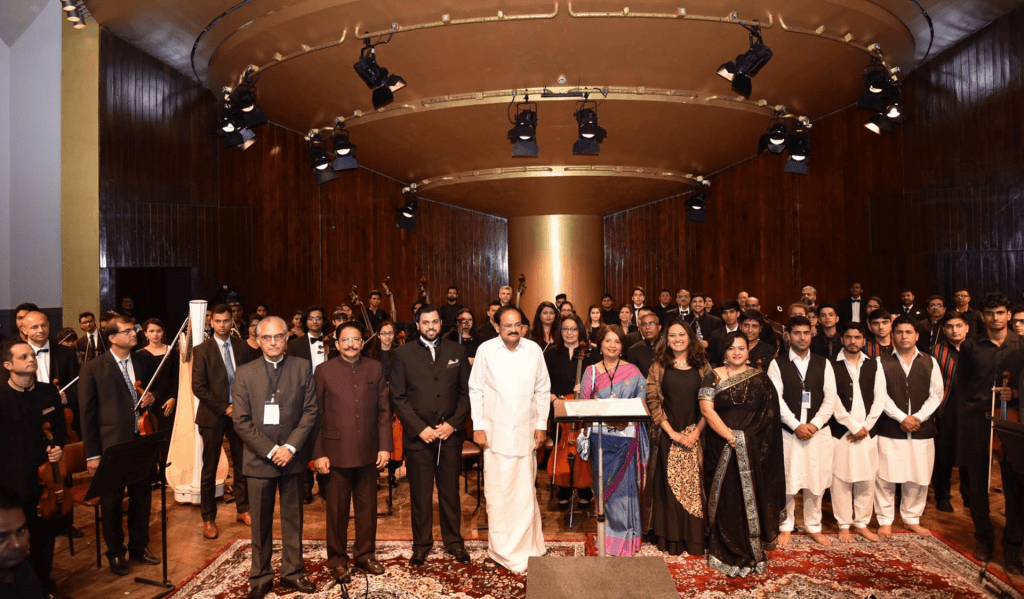 The aim of the South Asian Symphony Foundation (SASF) is to promote greater cultural integration for the cause of peace in our region of South Asia, through the medium of music and the creation of a South Asian Symphony Orchestra. The inspiration has come from Ambassador Nirupama Menon Rao's years in diplomacy and what she saw as a felt need for providing a platform to promote more dialogue, cultural synergy and friendly understanding among the youth of the eight countries in South Asia, including India.